Online Banking
News & Events
Happy New Year from The Bank of Jackson!
We hope your New Year is filled with success, health, prosperity and happiness. We look forward to doing business with you in 2019!

Switch to e-Statements! Save time. Save trees.
It's quick and easy to check your balances, view your transaction history and transfer funds with Online Banking. What's more, Bank of Jackson Bill Payment offers you the convenience of paying your bills automatically each month, all with the click of your mouse.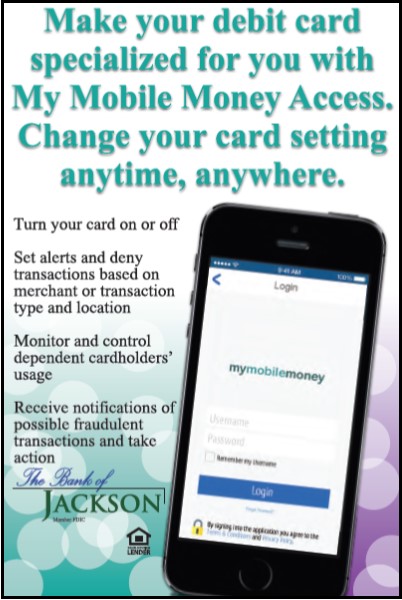 Reminder: Users must first successfully enroll in The Bank of Jackson's Online Banking before using the Mobile App.

The Bank of Jackson's short and successful heritage is built on its commitment to the local community of Jackson and Madison County, local lending decisions and local stockholders and board members. The bank is built on the little difference that only a hometown community bank can deliver--personal service.
The bank's most important asset is its customers. Without customers, the bank is nothing. Our products are designed to meet the needs of customers, our hours are set to meet the need of our customers, and our employees are hired to meet the needs of customers. High quality customer service is the true mission of this bank. It is only through the accomplishment of this mission that the bank's profitability goals are achievable.
The next most important asset of the bank is its employees. Without dedicated and responsible employees, it would be impossible for the bank to be a responsible citizen of the communities or to render high quality customer service.
Our Culture…
The culture of The Bank of Jackson is that we are caring professionals who use our expertise to make dreams a reality.
Our Mission…
The mission of The Bank of Jackson is to provide the very best customer service, product innovation, and financial soundness.
Our Vision…
The vision of The Bank of Jackson is to be the leading independent bank providing quality, personal services to the Jackson community.


© Bank of Jackson
---